DANTE and TEIN*CC set to collaborate to continue the TEIN success story
August 2012 | Cambridge, UK

MoU signed in Colombo, Sri Lanka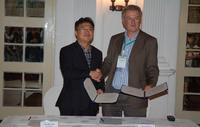 TEIN*CC President Tae-Hee Lee with TEIN3 Project Manager David West.
DANTE and the TEIN* Co-operation Centre (TEIN*CC) signed a Memorandum of Understanding on 26 August 2012 at the 34th APAN Meeting in Colombo, Sri Lanka to to collaborate on projects to benefit the research and education community in the Asia-Pacific region.
DANTE and TEIN*CC will capitalize on TEIN4 activities and plan to promote the long-term sustainability of research and education networking in Asia Pacific and Europe.
The scope of collaboration between DANTE and TEIN*CC includes the following aspects:
DANTE will provide consultancy service advice and support to TEIN*CC during the TEIN4 project.
Co-operation between GEANT and TEIN in areas of mutual interest on Advanced Internet Technologies; New Generation Network/Future Internet Technologies; Test Beds; Research and Education Networking Co-Operation between Asia and Europe.
As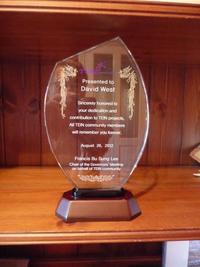 part of a ceremonial handover from TEIN3/DANTE to TEIN4/TEIN*CC, David West, DANTE's TEIN3 project manager, was awarded a plaque from the TEIN community in recognition for his efforts to make TEIN a regional success story.