Research and Education Networking Roadshow in the Lower Mekong
July 2012 | Cambridge, UK

TEIN3 project supports NREN development in Myanmar, Cambodia and Laos

"This workshop was very effective for our country. Now everyone realises that an NREN is essential in Myanmar for collaboration among researchers."

This testimonial neatly sums up a series of TEIN3 workshops staged in May in Myanmar, Cambodia and Lao PDR. As part of an awareness-raising campaign for R&E networking amongst the final countries in South East Asia not yet connected to the TEIN3 pan-Asia R&E network, the TEIN3 project brought in a team of experts from Asian partners and other regions to boost local efforts already underway to set up national research and education networks (NRENs) and pave the way for getting these countries connected to TEIN3/4.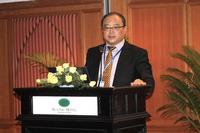 ByungKyu Kim, Executive Officer, TEIN* Cooperation Center.
All three countries have fast developing ICT programmes and are keen to utilise these to support higher education and scientificByungKyu Kim, Executive Officer, TEIN* Cooperation Center research projects, as already successfully done in neighbouring countries. The workshops followed a common format of national government and European Commission endorsement, and a structured programme of best practise advice as well as an exchange of views on local needs and opportunities for R&E networking, but tailored to the specific needs and situations in each country. Please
click here
to view objectives of each workshop.
Each workshop attracted 120+ participants - stakeholders ranging from ministers, government officials, researchers and academics, NREN and prospective NREN representatives and offered ample opportunities for human networking and bilateral meetings.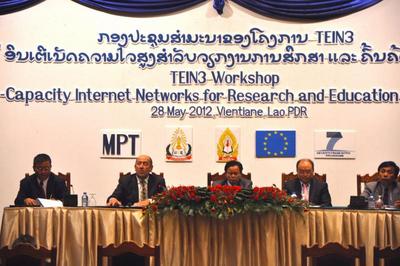 Opening session of TEIN3 Workshop in Vientiane, Laos.
Opening session of TEIN3 Workshop in Vientiane, Laos Officially opened by respective ministers and senior ministerial and EC officials, each intensive one-day workshop featured a dedicated session for representatives from established NRENs in neighbouring TEIN3 member countries, such as Malaysia, Vietnam, Thailand and the Philippines to share their experiences in setting up an NREN and getting connected to TEIN. Denis Villorente from ASTI in the Philippines highlighted how local researchers can respond to global issues, such as food security and global warming and participate in international collaborative research thanks to TEIN3 and its interconnection to its European counterpart, GÉANT. From Vietnam, Nguyen Hong Van added applications like tele-medicine and e-learning, and stressed how the establishment of VinaREN had contributed to opening up the telecoms market in her country. Launched only in 2008, there are now ambitious plans to connect all R&E institutions in Vietnam by 2020.
In his presentation, Dale Smith from the Network Startup Resource Centre at the University of Oregon illustrated practical steps to building an NREN, making attendees familiar with terminology and advantages of R&E networks vs commercial Internet for collaborative research.

ByungKyu Kim, Executive Officer of TEIN*CC, which will take on the management of the next generation of the TEIN network from DANTE in September this year, outlined future plans of consolidating and extending the TEIN pan-Asian network and provide further support for new members.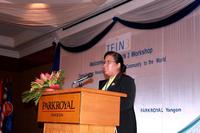 Prof. Dr. Ni Lar Thein, Rector, UCSY, Myanmar
Local scientists and researchers gave insight into exciting collaborative research and education networking potential in their Prof. Dr. Ni Lar Thein, Rector, UCSY, Myanmar respective countries, highlighting the bottlenecks of their current connectivity set-up. "No man is an island
"
, stated Prof. Kyi Kyi Thin, Head of the Microbiology Department at the University of Medicine in Yangon, stressing the need for increased collaboration with peers across the region and the globe to tackle killer diseases such as malaria, avian influenza and hepatitis. Various other researchers and academics echoed these views, calling for a connection of their respective countries to TEIN as a gateway to participation in world-class research and learning.
The workshops succeeded in pushing forward NREN development in Myanmar, Cambodia and Lao PDR and equip them with the know-how to become part of the global research networking community.
Following the success of these workshops a further roadshow session has been added to support R&E development in the Kingdom of Bhutan. On 12 September, EC and local government officials will meet with TEIN3 representatives and Bhutanese researchers in the capital Thimphu to kick-start the establishment of DukREN, the national NREN and its connection to the TEIN regional network. Click here to find out more
To view the agenda and presentations please click on the links below.



Proceedings Myanmar Workshop


Proceedings Cambodia Workshop


Proceedings Laos Workshop

Click here to access the picture gallery.