TEIN3 Backgrounder

What is TEIN3?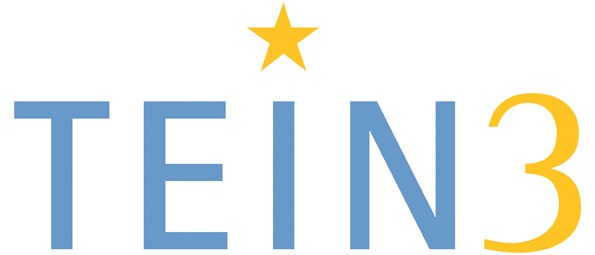 TEIN3 is the third-generation Trans-Eurasia Information Network, which provides a large-scale research and education data-communications network for the Asia-Pacific region. Its purpose is to extend and encourage research and education IP connectivity, linking Asia-Pacific researchers to each other and to their counterparts in Europe. It does this via fast, direct links to Europe's multi-gigabit GÉANT network, providing the Asia-Pacific countries with a gateway for global collaboration.

With over 50 million users, TEIN is the world's largest research and education network; it currently interconnects universities and research centres in China, India, Indonesia, Japan, Korea, Malaysia, Nepal, Pakistan, the Philippines, Singapore, Sri Lanka, Thailand, Vietnam, Australia, Bangladesh and most recently Cambodia.

Supported with €12 million from the European Commission and with substantial funding and capacity by the Asian partners, the TEIN3 network operated until the end of 2011. In September 2012, responsibility for the new phase, TEIN4, was transferred to the TEIN* Cooperation Center (TEIN*CC), which was established by the Korean government to continue to develop the network up to 2016 with DANTE support. TEIN continues to receive funding support from the European Commission which is contributing €8 million for TEIN4.

An ASEM success story

Launched at the ASEM 3 Summit in Seoul in October 2000 to improve Euro-Asian research networking, the Trans-Eurasia Information Network initiative took off in December 2001 with the installation of a France-Korea connection (TEIN1).

ASEM 6 in Helsinki in September 2006 marked the official inauguration of TEIN2, which extended the bilateral success of TEIN1 to the regional level by creating the first large-scale regional data-communications network for research and education across the Asia-Pacific region.

In October 2008, leaders at ASEM 7 in Beijing recognised the success of the TEIN initiative in fostering research collaboration between ASEM partners and renewed their commitment to its long-term sustainability by announcing TEIN3.

A further milestone was achieved on 1 December 2009, when the extension of TEIN3 into South Asia was celebrated at the ASEM Workshop 'Building an Inclusive Information Society' in Kuala Lumpur, Malaysia.

In November 2012, leaders at ASEM 9 in Vientiane, Laos, recognized the establishment of TEIN*CC and renewed their endorsement for the TEIN initiative.

What are the benefits of TEIN3?

With co-operative research now very much a global activity, it is vitally important for the Asia-Pacific region not to be excluded. TEIN3 extends the geographical reach of the network and promotes digital inclusion across Asia-Pacific. Some countries, such as Japan and Korea have highly developed research networks. Other networks, like those of Laos and Bhutan are still in their infancy. TEIN3 promotes digital inclusion and regional cohesion, creating more equal access to cutting-edge network resources. It acts as a catalyst by stimulating the development of research networking in the developing countries. In addition, many of today's global challenges require global collaboration to tackle issues such as climate change, avian influenza and HIV/AIDS. TEIN3 fully integrates Asian researchers into the Global Information Society.

Who is involved in TEIN3?

The TEIN3 project was co-ordinated by DANTE, a not-for-profit organisation that operates regional networking projects in Europe (www.geant.net), Latin America and the southern Mediterranean rim (www.eumedconnect3.net). For TEIN3, DANTE was partnered by RENATER, SURFnet and JANET, the national research and education networks (NRENs) of France, the Netherlands and the United Kingdom, respectively.

The Asian partner networks are Bangladesh (BdREN), Cambodia (CamREN), China (CERNET, CSTnetand HARNET), India (NKK), Indonesia (INHERENT/ITB), Japan (JGN2plus/NICT, SINET3/NII and MAFFIN), Korea (KOREN/NIA), Laos, Malaysia (MYREN), Nepal (NREN), Pakistan (PERN2), the Philippines (PREGINET/ASTI), Singapore (SingAREN), Sri Lanka (LEARN), Thailand (ThaiREN) and Vietnam (VinaREN).

The Australian NREN AARNet and the NFS-funded TransPAC2 programme are also actively participating.

TEIN3 Facts
Supports a community ofover50 million users.
Represents 60% of the world population.
Regional connectivity extends from four network hubs in Beijing, Singapore, Mumbai and Hong Kong.
Direct links to GÉANT create a potential user base of more than 90 million.
Via GÉANT, it enables world-class EU-Asian research collaboration.
Operates at speeds of up to 2.5 Gbps.
Managed by research networking expert DANTE.
Aims to transfer project management to Asian ownership, develop funding models for long-term sustainability and to extend geographical coverage of the network.

TEIN3 success storiesinclude:

Natural disaster warning and post-crisis support
TEIN3 plays a key role in the timely transmission of global meteorological data, which permits faster local weather forecasting. In May 2006, for instance, reduced delays in the transfer of data from the German weather bureau to its counterpart in the Philippines, via the GÉANT and TEIN networks, resulted in correctly predicting the path of typhoon Caloy, thus allowing timely, accurate and, ultimately, life-saving weather warnings to be given to the public.

In the aftermath of the catastrophic earthquake in Sichuan province in May 2008, researchers at the European Commission Joint Research Centre in Italy used the trans-Eurasia link to transfer high-resolution images of the stricken region to their colleagues in China to aid post-disaster reconstruction.

Crop research
Scientists at the International Rice Research Institute (IRRI) in the Philippines join forces with their colleagues in other parts of the world to develop resilient, "climate-proof" crop varieties, a collaboration that requires high-performance networking for the exchange of vast genomic datasets as well as the transfer of high-resolution geographic information system (GIS) data for vegetation analysis and yield forecast.

Tele-surgical training
Tele-teaching provides an enabling environment for the delivery of education and training in a wide variety of disciplines. These allow collaborators at remote locations around the region to interact in real time as though they were in the same place. A digital video transfer system (DVTS) supported by TEIN3, for example, is permitting high-quality streaming of live surgery from operating theatres to remote classroom settings. A two-way audio feed alongside the video link allows immediate interaction between trainees and surgeons.

Medical tele-consultations
The TEIN2 link to Vietnam in 2006 has provided strong support to the partnership between the Royal Children's Hospital in Melbourne and the National Children's Hospital in Hanoi in the fields of paediatrics. Remote video-conferences for case reviews replace some face-to-face visits of Australian medical staff to Hanoi with tele-consultations.

Virtual lectures
TEIN3 allows students across the region to attend remote lectures via interactive video-conferences. It also supports virtual discussion forums through streamed talks from geographically distributed sites.

eSocial Science
Using grid technologies deployed over TEIN3 and GÉANT, social scientists in the UK, China and Australia can analyse distributed market data and use the results to understand global market dynamics and to develop predictive models of consumer behaviour.