TEIN3 Network Applications

The following are examples of scientific and educational projects where advanced connectivity provided via TEIN3 makes a significant difference to their success.

Typhoon warning system

About 20 typhoons hit the Philippin

e archipelago every year triggering flash floods and landslides, leaving behind a trail of devastation. Effective disaster warning systems rely on accurate storm forecasts and fast communication of weather alerts. The Philippine National Meteorological Agency (PAGASA) now uses a combination of internet networks and SMS messages, to provide real time alerts to emergency coordination centres and the general public.

PAGASA utilises TEIN3 and the Philippine national network (PREGINET) to connect to partners in Europe. Working with data from Germany's Deutsche Wetterdienst (DWD), PAGASA runs daily forecasting models. Results are ready in just one hour for the formulation of seventy-two hour forecasts.
These fast and timely warnings prepare citizens and the emergency services, and help mitigate the disastrous effects of typhoons. In May 2006, for instance, reduced delays in the transfer of data from the DWD to PAGASA via the GÉANT2 and TEIN networks, resulted in correctly predicting the path of typhoon Caloy, thus allowing timely, accurate and, ultimately, life-saving weather warnings to be given to the public.

Tsunami-early-warning system

Tsunamis are not predictable, but their disastrous impacts can be mitigated with timely warnings. The main goal of a German-Indonesian initiative, launched in November 2008, is to establish an advanced Tsunami early-warning system for the Indian Ocean, focusing on the highly

vulnerable Indonesian coastline. The GITEWS will bring together cutting-edge technologies consisting of seismometers, GPS, marine buoys, tide gauges and advanced IT-technologies. Sensor data is transmitted online to the national centre in Jakarta for processing and modelling. Within 10-15 minutes, predictions are available and ready to be sent to warning centres in all Indian Ocean rim countries, as well as to local centres in Indonesia.
TEIN3 will contribute to the establishment of this system by complementing satellite links for the transmission of sensor and modelling data. With improved regional network connectivity, TEIN3 assists Indonesian research institutes like the University of Bandung, optimising their own tsunami-modelling activities.
Post-earthquake relief efforts

In the aftermath of the catastrophic earthquake in Sichuan province in May 2008, researchers at the
European Commission Joint Research Centre
in Italy used the trans-Eurasia link to transfer high-resolution images of the stricken region to their colleagues in China to aid post-disaster reconstruction.
Earth observation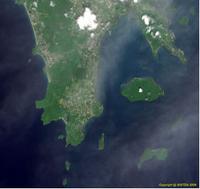 Following its successful launch in October 2008, the Thai Earth Observation Satellite (THEOS) collects high-resolution images which are transferred from a North Pole station across the Nordic research network to GÉANT2, and then across TEIN3 to Thailand and other regional nodes for analysis and deployment in cartography, land use, coastal zone monitoring and flood risk management.
Tele-surgical training

Typical set-up of an interactive tele-surgical training session: Images of a live surgery aretransmitted simultaneouslyto a remote auditorium and a counterpart hospital where a medical team provides instant feedback on the procedure. Advances in keyhole surgery techniques have vas tly improved patient healthcare. With small incisions, patients experience less scarring, faster recovery and reduced costs for hospital stays than with conventional surgery. TEIN3 aids medical education in minimally invasive surgery between trainees and experienced surgeons, creating virtual teaching co mmunities throughout the region.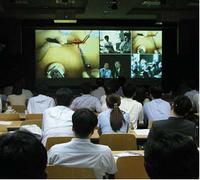 Images of a live surgery are transmitted simultaneouslyto a remote auditorium and a counterpart hospital where a medical team provides instant feedback on the procedure.
TEIN3's fast and stable network connections support the digital video transport system (DVTS), streaming live, high-definition surgeries from an operating theatre to remote classrooms, with real time interacti on. TEIN3 is extending medical training throughout Asia-Pacific. Pioneers in tele-surgical training including Japan's Professor Shuji Shimizu, as well as colleagues in Korea, Singapore and Australia, are now mentoring partners in Vietnam, Indonesia and Malaysia.
TEIN3's interconnection to GÉANT2 enables interaction with European medical teams, like the European Institute for Tele-surgical Training, based in Strasbourg. TEIN3 and GÉANT2 contribute to the creation of a virtual international teaching community to disseminate best medical practice and to improve standards of healthcare across the two continents.

Find out more at: www.aqua.med.kyushu-u.ac.jp

Medical tele-consultations

The TEIN2 link to Vietnam in 2006 has provided strong support to th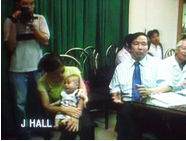 e partnership between the Royal Children's Hospital in Melbourne and the National Children's Hospital in Hanoi in the fields of paediatrics. Remote video-conferences for case reviews replace some face-to-face visits of Australian medical staff to Hanoi with tele-consultations.

Saving lives through ground-breaking drug-discovery

The power of GEANT2 and TEIN3 supports the search for live-saving treatment against killer diseases such as malaria and avian flu. The drug discovery process is being greatly accelerated by distributed computing and the underlying network infrastructure. With the help of high-speed computing an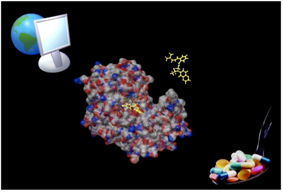 d the huge data managing capabilities of the Grid, researchers participating in the WISDOM project have been able to very rapidly screen and study drug components against these killer diseases. The project is predominately a collaboration of Asian and European laboratories and is primarily supported by the EGEE grid infrastructure. The massive biomedical data challenges involve, on average, the parallel use of 5000 geographically distributed computers – the equivalent of 420 years of computing power of a single PC.

Developing resilient crops

Rice is the lifeline of Asia. However, climate change and an ever-expanding popu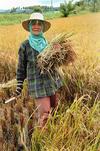 lation threaten food security not only in the region but elsewhere in the world. The main objective of the International Rice Research Institute (IRRI) in the Philippines is to help farmers improve their yields and thus sustain their livelihoods – a mission that calls for joint efforts across the globe and for high-performance networks, such as TEIN3, to facilitate data-intensive collaborative research. For instance, IRRI scientists join forces with their colleagues in other parts of the world to develop resilient, "climate-proof" crop varieties, a collaboration that requires the exchange of vast genomic datasets as well as the transfer of high-resolution geographic information system (GIS) data for vegetation analysis and yield forecast.

Meeting the needs of global socio-economic research

The INWA Grid project demonstrates how an intercontinental network infrastructure can help social scientists understand global market dynamics. Using grid technologies deployed over TEIN3, researchers in the UK, China and Australia can analyse distributed market data and use the results to develop predictive models of consumer behaviour.

eLearning: broadening access to education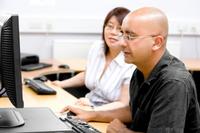 The CanalAVIST initiative which promotes an alternative, cost-effective way of providing education across Asia-Pacific; via live video links – courtesy of TEIN3 – students can attend lectures held hundreds or thousands of miles away. Similarly, CanalAVIST organises virtual discussion forums around specific topics through a series of talks streamed over TEIN3 and GÉANT2 from various sites in Asia-Pacific and Europe.